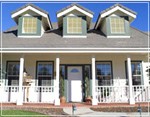 Obtain The Services Of A Realtor®
When it is time to enter the purchase market seriously, it is advisable to utilize the services of an experienced Realtor®. Realtor® will assist in more than just showing you homes by helping with neighborhood decisions, considerations of price range available and assisting with the many and varied forms related to a real estate closing, including the purchase agreement.
Submit A Contract Offer
When you have decided that you like a particular piece of property currently on the market, the next step is to make an offer on the property. This offer must be made in writing - perhaps on a preprinted real estate purchase form. These forms are available from a wide variety of sources. Your best bet is to use one provided by the local bar association and/or board of Realtors®. Your Realtor® will be able to assist you with this function.
If you intend to have an attorney involved in the transaction, now is the time to get them involved, as they will be able to assist in the negotiation and drafting of the purchase agreement.
The process then involves a counter offer from the seller, and various other offers and counter offers until the terms of the agreement have been fully negotiated.
Pay Earnest Money
Once the contract is finalized, there is generally a requirement to present a sum to the seller as an indication that the buyer is serious about purchasing the home.
Obtain A Loan
Since most purchasers are incapable of paying for a home with cash, it is generally essential to obtain a loan from a lender.
Obtain A Property Inspection
During this period, and prior to closing, it is a good idea to have a licensed engineer perform an inspection on the home to determine that the major systems of the home are in working order and that the foundation and home structure are in good shape.
Obtain Homeowners' Insurance
It is always a good idea to obtain a casualty policy of insurance on the home. This will also be required by your lender should you have one so that their security in the loan is protected.
Close On The Property
This function is generally performed in a Title First office. Various documents including those related to your loan will be signed. The settlement statement will contain all the figures involved in the sale.
Buyer's Fees/Debits Commonly Seen At The Closing:
Settlement/Search fee
Recording costs/fees
Survey fee
Loan fees
Escrow of funds for taxes and insurance
Private Mortgage Insurance
Title insurance commitment/premium for loan policy
Home owners' insurance
Buyers Credits Commonly Seen at the Closing:
Real Estate taxes
Loan amount
Title Insurance examination
Title Insurance commitment/premium for owner policy